Starting Weight: 330 pounds
Weight Last Week: 299.9 pounds 
This week's weigh-in: 299.5 pounds
Ugh. Not super-thrilled with my weigh-in today. It's been a while since I posted a weigh-in post. The last two Sundays were Christmas and New Year's and I didn't blog on those days. Honestly, I think I gained a little bit back over Christmas, but I am not sure exactly how much (I think I was around 302) so I am just going to go off of my last weigh-in. So I may have lost more than what it looks like-but only because I gained first.
So, you may be wondering why I am posting this update on a Wednesday. Typically, I update my weight on Sunday, but I have decided to switch to weighing in on Wednesdays for two reasons.
First, with my new goal to unplug all day on Sundays to have some extra time with my family and to spend in prayer and worship, I will not be blogging on Sundays anymore. Second, the new challenge I am participating in does weigh-ins on Wednesday. Plus, I think Weigh-In Wednesday has a nice ring to it, don't you? :)
I am very excited about the new challenge I am doing.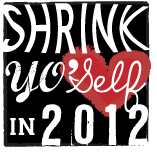 I am joining up with the "Shrink Yo'Self In 2012" challenge over at The Sisterhood of the Shrinking Jeans. The challenge runs from January 1st to Febraury 29th and is a weight-loss and fitness challenge. For the fitness portion you are to do either 20 minutes of vigorous activity 3  times per week or 30 minutes of moderate activity 5 times eachweek.
If you'll remember, my fitness goal for 2012 was to exercise 4-5 times every week, and pretty much all of my exercise is pretty vigorous I would say, with the amount of sweat and heavy breathing I have going on. TMI? Sorry!
Our assignment for this week was to write out our list of goals. I kind of forgot when I posted them yesterday that I was supposed to be linking up with the challenge today. So I will just link to it here: My Goals for 2012.
My specific goal for the 9 week challenge is to lose 20 pounds. I will continue with my sugar detox  for the remainder of the month of January, slowly add back in some fruits and limited complex carbohydrates in February, increase my water intake, track my calories on My Fitness Pal and of course, keep up with my exercise.
Twenty pounds in 9 weeks is a BIG goal, especially for me since I haven't seen a 2 pound loss in one week in a while. And now I am challenging myself to lose more than two pounds a week for 9 weeks straight. I am hoping by tracking everything closely and upping the intensity and getting some serious burn during my work-outs that it will be achievable.
What can I say? I'm a dreamer.
The Chick Magnet rocked his weigh-in this week. At last check, he weighed 228.4. As of this morning, he weighed in at 221.4. He lost a total of 7 pounds in the last 2 1/2 weeks. He has officially soared past the 85-pounds-lost mark, bringing his total weight-loss to a whopping 85.6 pounds. I swear, that man is a machine!
And yes, for the record, I am still jealous!!!
Want to join the challenge? Head over to The Sisterhood to check out the details.
How did your weigh-in go this week? Have you set some new goals for the New Year?