Starting Weight: 330 pounds
Weight Last Week: 295.2 pounds 
This week's weigh-in: 295.3 pounds
 Confession: I really didn't want to write this post today. When I started this journey and made the decision to make it a public one, though, I committed to myself and to you that I would always be honest and open about my successes and struggles with my weight.
I think there are lots of you out there going through similar issues with weight and emotional attachment to food and my desire is that you know you are not alone. It is still painful to admit to total strangers that for the third week in a row I have been stuck.
Confession: I can't pretend that I don't know why I am experiencing this plateau. Honestly? I haven't been making time to workout and I haven't been tracking my calories. Some people can eat intuitively and not have to track, but I am NOT one of those people. My sense of portion control is so warped after years of out-of-control portions that I know I can't trust myself to eat properly unless I am really paying very close attention by tracking. And the exercise thing is purely a result of not making it a priority (I will be writing more about this tomorrow and hopefully you will come back and give me some good ideas for doing better at this!)
Confession: I had a really horrible day of eating on Super Bowl Sunday. First, it started with taking my kids out to Pizza Hut for lunch after church on Sunday (where they wanted to go-but yes, I do know I am the parent and have the ability to say no). Not only did we go to Pizza Hut, but we ordered the buffet. I did start out with a big plate of salad, but I also had my fair share-well probably more than my fair share considering my aforementioned issues with portion control-of pizza and breadsticks.
Then came the Super Bowl party I attended. Again, I started with a  big plate of salad (which I brought with me to ensure I would have good choices-ha!) and I also had some fruit…and some dessert…and some chips and dip…and, well you get the picture. But honestly, it was ONE day and that is VERY abnormal for me. I normally have a very good diet. What you see on my menu plans every week-that's what I eat and it is always very healthful foods.
Confession: I have been getting less than 6 hours of sleep every night and, with the exception of one or two days, I haven't tracked my water intake. These two disciplines are SO important to effective weight-loss, yet I've been letting them slide the last couple of weeks.
So there you have it. That's been my week so far. Not too promising, but I know what the issues are and can work to improve them from here. I am DONE being emotionally attached to the number on the scale. Instead of letting it depress me and beating myself up over it, I am actively and intentionally CHOOSING to let it push me, let it motivate me, and yeah, even a little bit let it get me angry and fired up so I can push through this plateau and break the chains this weight has on me.
I can guarantee  you the scale will not defeat me.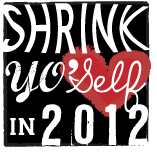 I set a goal as part of the Shrink Yo'self 2012 challenge to lose 20 pounds in 9 weeks (January 1 to February 29). To accomplish that, I have to average 2.2 pounds lost for each week of the challenge. This week I gained .1 pounds bringing my weekly average to .92 pounds. Yikes! Time to step up my game! At this point, I'll be lucky to get to half of my goal! Not sure what I was thinking when I set that goal.
The Chick Magnet (my husband, for those of you who are newer readers) weighed in at 214 today, which was a .6 pound gain over last week. I'm not hugely surprised that he showed a slight gain because he had such a huge loss last week (almost 4 pounds). He is on his fourth week of P90X and building some serious muscle, so I am sure that is a factor as well. He is pretty much in maintenance mode now, though I'm sure he'll lose a few more pounds as he tones everything up and continues to build muscle.
That's the truth.
I'm linking my post up over at The Sisterhood. Go check it out to get some more weight-loss and fitness inspiration!
How did your weigh-in go this week? Are sticking with your goals? Any confessions to make this week?